Water Heater Replacement To Upgrade Your Property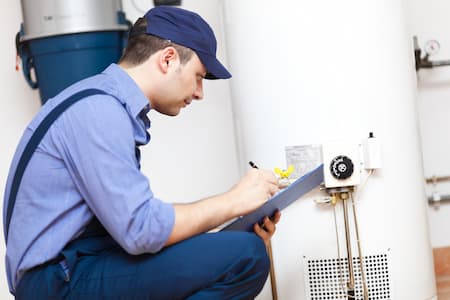 Like any other mechanical system, water heaters are subject to wear and tear, which might lead to a situation where you have no choice but to replace them. If your property in Spring Lake has a problem with its water heater, you can count on Top Quality Plumbing to provide top-notch water heater replacement services.
Top Quality Plumbing is guided by a single guiding principle: complete client satisfaction. To ensure that our clients receive only the best services, we deploy a number of effective strategies. For example, we have a polished team that includes some of the industry's most experienced plumbers. This team will provide you with a detailed quote that covers all the important aspects of the job.
As the saying goes, an ounce of prevention is worth a pound of cure, and we adhere to this saying. To avoid unforeseen problems in the future, we will conduct a thorough analysis of your water heater. We will perform a visual inspection to determine if there are signs of damage or corrosion. If your water heater shows any immediate signs of damage, we recommend that you replace it. If you aren't certain if your system needs repair or replacement, our team is here to help you keep your property functioning smoothly with premium water heater replacement services in Spring Lake. Make the call today for a free estimate.
New Water Heaters
When it comes to water heater repairs and replacement, our professionals are well-trained and will do an excellent job. Water heaters aren't a long-term investment. The majority of them will last between 15 and 20 years before they need to be replaced. If you keep using your water heater past this point, you'll end up paying for frequent repairs, which will end up being more expensive than replacing it. If your device is old, do not hesitate to contact Top Quality Plumbing, the best plumber in Spring Lake, for water heater replacement services. Our experts can recommend the finest options for water a new water heater based on your budget and situation.
Need a Plumbing Expert?
Call Top Quality Plumbing!

Plumbing Tips & Tricks
Should I DIY My Bathroom Faucet Installation?

You depend on your faucet for drinking water, bathing, and washing dishes. But when it stops working properly, you need to act fast to avoid the spread of mold or the growth of rust. And if you've ne […]
Does My Water Heater Need To Be Replaced?

Do you experience sudden spikes in water temperature? Are you concerned about a leak? Does your water heater seem to run hot and keep going out? If you answered yes to any of these questions, it migh […]

Contact Us Today
Call Your Trusted Spring Lake Plumber Today!