A Trusted Pipe Repair & Replacement Professional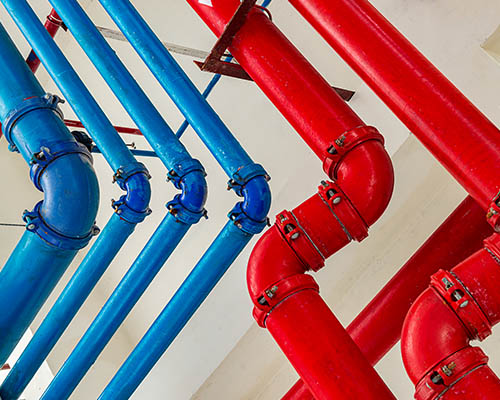 If your pipe needs to be repaired or replaced, call on the team at Top Quality Plumbing! We are a full-service plumber in the Spring Lake area that offers expert plumbing maintenance services for residential and commercial properties. We know how important it is to trust your plumber. That's why we always strive to provide our customers with quality workmanship and dependable service. We can fix any problem you might be having with your plumbing system. We've got everything you need for plumbing repairs and installations, from pipe repair supplies to the latest in-demand fixtures. Rest assured that we carry only the highest quality and most durable products. Our pipe repair, drain cleaning, and plumbing services are driven by the understanding that quality, integrity, and professionalism are three of the most vital attributes for success. Our team is well versed in all areas of plumbing repair. Contact us today to find out why we're the only Spring Lake plumber you'll ever need.
New Pipe Replacement
Our plumbing company provides expert pipe repair services to the residents of Spring Lake. When you need reliable, professional pipe repair, you should choose a trusted licensed plumber. Our plumbing technicians have years of experience and will provide the best service to promptly help with your plumbing issues. Our Spring Lake plumbers are properly licensed, bonded, and insured. We promise that all our work is completed correctly to ensure that your plumbing system works properly and can be relied on. In addition, our technicians will always give you honest and timely estimates to help plan the repair work needed and meet your expectations while working with you to prevent future problems or breakdowns.
Re-Piping Services
Repiping can be done for various reasons, but it is usually to replace old pipes with newer materials for a better quality of water, less maintenance, and the pipes being more resistant to breakage. A repiping can save you up to 50% on your water and energy expenditures while improving the lifespan of your building. Replacing the pipes in your home will not only save you money but also make your home more energy-efficient. If you're in need of professional plumbers for repiping needs, then you've come to the right place! No matter what type of pipe repair you need in Spring Lake, our professional plumbers have you covered.
Latest Pipe Repair Projects
Need a Plumbing Expert?
Call Top Quality Plumbing!

Plumbing Tips & Tricks
Should I DIY My Bathroom Faucet Installation?

You depend on your faucet for drinking water, bathing, and washing dishes. But when it stops working properly, you need to act fast to avoid the spread of mold or the growth of rust. And if you've ne […]
Does My Water Heater Need To Be Replaced?

Do you experience sudden spikes in water temperature? Are you concerned about a leak? Does your water heater seem to run hot and keep going out? If you answered yes to any of these questions, it migh […]

Contact Us Today
Call Your Trusted Spring Lake Plumber Today!