Commercial Plumber Pros For Any Problem - Big Or Small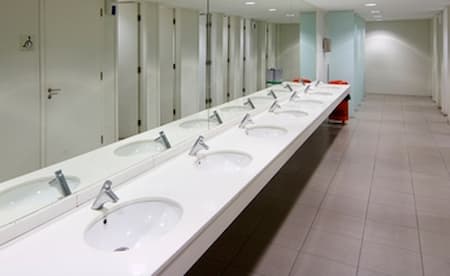 Do you have a commercial property in Spring Lake? Need an expert commercial plumber to take care of any problem? Top Quality Plumbing is the right choice for you! Our commercial plumbing pros are licensed, qualified, and knowledgeable. They can help with any issue you may have. We provide services such as:
Sewer and drain cleaning

Sink/faucet installation and repair

Water heater installation or replacement

Service on broken toilets
Our staff of licensed commercial plumbers at Top Quality Plumbing provides services to a variety of clients, including restaurants, businesses, and hotels to residential customers in the Spring Lake area. We also provide scheduled maintenance services for all commercial plumbing needs. To learn more about our commercial plumber professional services and expertise in Spring Lake, reach out to our pros today!
Business Plumbing Repair
We're here to help with your business plumbing repair needs! We understand that it can be a big headache for you and your employees when your plumbing system breaks down. From clogged drains to broken pipes, our team can assist! We provide excellent service, reliable results, and affordable prices on all of your commercial plumbing needs. Our trusted services are guaranteed by us! Call today for more information on how you can get started with repairs today.
Commercial Plumbing Service
Our Spring Lake plumber service includes a range of general plumbing and repair solutions. Business owners hire our contractors because they know the work will be done more efficiently and for less cost than if they were to do it themselves. When you put your trust in Top Quality Plumbing, you can be sure that any work done will be done correctly the first time around. Our extensive knowledge of virtually every type of plumbing problem is the result of years of hands-on field work. We are not "phone-it-in" plumbers only checking the boxes on an invoice with little care for the actual work involved. We take pride in our reputation and want to keep it that way by providing the best service available for commercial property owners in Spring Lake.
Need a Plumbing Expert?
Call Top Quality Plumbing!

Plumbing Tips & Tricks
Should I DIY My Bathroom Faucet Installation?

You depend on your faucet for drinking water, bathing, and washing dishes. But when it stops working properly, you need to act fast to avoid the spread of mold or the growth of rust. And if you've ne […]
Does My Water Heater Need To Be Replaced?

Do you experience sudden spikes in water temperature? Are you concerned about a leak? Does your water heater seem to run hot and keep going out? If you answered yes to any of these questions, it migh […]

Contact Us Today
Call Your Trusted Spring Lake Plumber Today!