Skilled Plumber Serving Spring Lake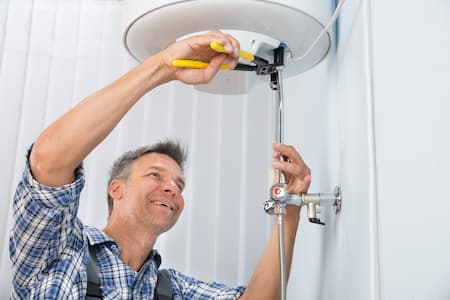 Top Quality Plumbing has the knowledge, equipment, and experience to handle any plumbing job you can think of - from repairs to new installations. With our expertise, superior customer service, and unbeatable prices, there's no other choice for plumbing service in Spring Lake that comes close to ours. We'll complete the work quickly and cleanly, even if you have an emergency! Our plumbers are licensed, bonded, and insured to give you peace of mind that the work they perform meets or exceeds local building codes. In addition, we offer an upfront written estimate on all labor and parts prior to performing any services. Whether you need work done in your home or the commercial property you own, Top Quality Plumbing is your #1 choice for expert plumber services serving Spring Lake and surrounding areas. Call us today for a free quote!
You've Found The Best Plumber In Spring Lake
When you deal with Top Quality Plumbing, plumbing repair in Spring Lake is a breeze! Our staff draws on years of expertise to provide our clients with a wide variety of plumbing services they can rely on. Every element of plumbing repair is covered by us, from leaking pipes to broken supply lines. We'll assist you in making the best decision possible by examining your property from top to bottom and determining the source of your issue. This attention to detail is what makes us Spring Lake's most trusted plumber, and it enables us to get your house or business back in working order without causing too much disturbance.
We Are The Spring Lake Experts In Water Heater Repair And Installation
Our aim is to offer our dependable hot water heater repair service to residential and commercial customers in Spring Lake. We can handle any make and model brand of water heaters with our professional, well-trained, and experienced experts, ensuring an efficient and complete service. When you need a dependable hot water heater repair service, turn to us. We boast a team of highly trained technicians who can quickly assess your needs and get the job done right. We will work with you to assess your needs and develop a solution that meets or exceeds your expectations. Call our office today to discuss how we can assist you in resolving any plumbing issues.
Reviews & Testimonials on Top Quality Plumbing in Spring Lake, NJ
Kevin went out of his way to search high and low for a matching replacement Instant Hot Faucet for me, well above and beyond what I would have expected. Megan's Customer service was also superb, always polite and patient. A true, Top Quality team!
We just had them do the plumbing for our new kitchen. They were very well priced. Always on time, and Just an overall great experience! Keep up the great customer service!
This is a great company. I have relied on them several times over the past 3 years for large (gas boiler replacement with a combi unit) and small (leaks) projects. They do what they say they're going to do, call & show up when they say they will, and stand behind their work. All employee are extremely kind and extremely technically proficient. Their work is the most meticulous I've seen. I cannot say enough good things about this company. I will continue to recommend them to family and friends.
I renovated two houses, and I hired Top Quality to redo the plumbing in the kitchens, and do the hookups in the bathrooms. It was really a 'Top Quality' experience. I am really happy. They have a really efficient system of getting the quote to the customer, giving a good price, filling out the permit paperwork, scheduling the work, getting the work done on time, and doing great work. Thank you everyone at Top Quality for making this renovation such a positive experience!
Need a Plumbing Expert?
Call Top Quality Plumbing!

Plumbing Tips & Tricks
Should I DIY My Bathroom Faucet Installation?

You depend on your faucet for drinking water, bathing, and washing dishes. But when it stops working properly, you need to act fast to avoid the spread of mold or the growth of rust. And if you've ne […]
Does My Water Heater Need To Be Replaced?

Do you experience sudden spikes in water temperature? Are you concerned about a leak? Does your water heater seem to run hot and keep going out? If you answered yes to any of these questions, it migh […]

Contact Us Today
Call Your Trusted Spring Lake Plumber Today!