Experienced Water Line Repair & Replacement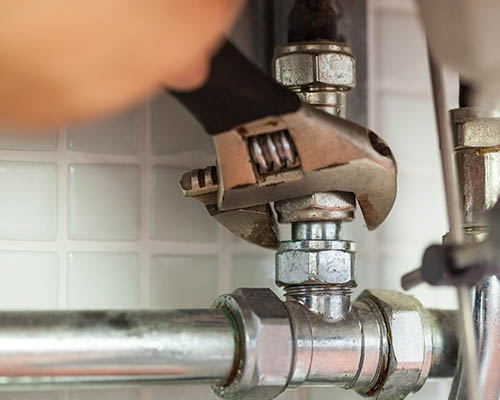 We are your number one choice for comprehensive water line repair and replacement services in Spring Lake. We have extensive experience in the plumbing business and use only the best equipment on our jobs. Our team can repair or replace faucets, toilets, and more. Part of our commitment to provide exceptional service means arriving on time, ensuring that you are educated on your plumbing system, and finishing the job safely. We are also qualified to handle pipe repair and replacement. As a local company, we understand our community, and we want you to strive for excellence. If you need water line repair and replacement in Spring Lake, give us a call. We understand that each household and business is unique and that various problems can arise. We don't want you to have to deal with the stress of dealing with a plumbing problem. Reach out today for a free estimate!
Water Pipe Replacement
Have a leaky or broken water pipe? Call the professional plumbers at Top Quality Plumbing for water line repair services. We handle both emergency and routine water line repair and replacement, as well as general water pipe replacement services for your home or business. A faulty or failing water pipe can lead to catastrophic problems in your home, like water damage and mold. Don't let that happen to you! You deserve professional plumbing service from trained experts who can unblock your drain, replace your pipes, and repair your toilet when it fails. We are professionals at what we do. You will be hard-pressed to find a better team of plumbers in the Spring Lake area than at Top Quality Plumbing. We are committed to your satisfaction and always go above and beyond your expectations.
Call Us For A Free Estimate
Trust the water line repair and replacement experts at Top Quality Plumbing! We perform experienced and quality plumbing repairs for homes and businesses in the entire Spring Lake area. We know how important your home or business is to you, and we want to make sure that you get the best quality workmanship around. Our repairs are always backed by our guarantee of free estimates, so call us today to schedule services in Spring Lake and surrounding areas.
Need a Plumbing Expert?
Call Top Quality Plumbing!

Plumbing Tips & Tricks
Should I DIY My Bathroom Faucet Installation?

You depend on your faucet for drinking water, bathing, and washing dishes. But when it stops working properly, you need to act fast to avoid the spread of mold or the growth of rust. And if you've ne […]
Does My Water Heater Need To Be Replaced?

Do you experience sudden spikes in water temperature? Are you concerned about a leak? Does your water heater seem to run hot and keep going out? If you answered yes to any of these questions, it migh […]

Contact Us Today
Call Your Trusted Spring Lake Plumber Today!