New Water Heater Installation For New Jersey Home & Businesses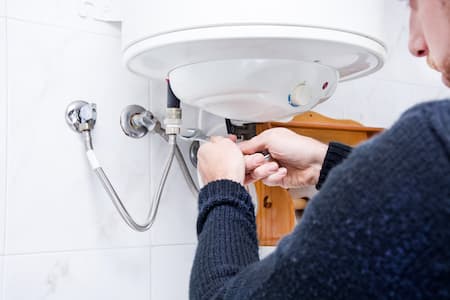 A water heater is a crucial element of your house in Spring Lake, and the staff at Top Quality Plumbing is here to help if you need a water heater installation for your home or business. Our craftsmanship is unsurpassed, and you can rest assured that your new water heater will be properly installed, functional, and efficient. Our technicians are trained to provide the highest level of customer service, and they will walk you through each stage of the water heater installation to ensure that you understand each step. We also service all brands of water heaters. Our technicians provide quality workmanship on every job we undertake, and they only utilize the proper equipment to achieve the best results possible. Our knowledge allows us to maintain your water heater for as long as you own your home or business. Call Top Quality Plumbing for water heater installation, repair, maintenance, and replacement in the Spring Lake area.
Water Heater Installer
A water heater replacement can be a difficult option for a homeowner, particularly if you've never had one before. You'll be able to work with our water heater installer after calling us to find out whether a residential water heater installation is right for you. We will check your current water heater and, if necessary, recommend a replacement. We will also be able to give you information about water heater maintenance and help you find out whether your home needs new plumbing.
No one wants to live in a house without hot water, so if you require water heater repairs, make an appointment for a water heater installation now to get your life back to normal as soon as possible!
When it comes to finding a reliable plumber in Spring Lake, Top Quality Plumbing is the best choice. Our crew is welcoming, knowledgeable, and dedicated to providing excellent customer service. You can rely on us for water heater installation that will keep your entire family comfortable.
Need a Plumbing Expert?
Call Top Quality Plumbing!

Plumbing Tips & Tricks
Should I DIY My Bathroom Faucet Installation?

You depend on your faucet for drinking water, bathing, and washing dishes. But when it stops working properly, you need to act fast to avoid the spread of mold or the growth of rust. And if you've ne […]
Does My Water Heater Need To Be Replaced?

Do you experience sudden spikes in water temperature? Are you concerned about a leak? Does your water heater seem to run hot and keep going out? If you answered yes to any of these questions, it migh […]

Contact Us Today
Call Your Trusted Spring Lake Plumber Today!