Top Quality Plumbing Is Freehold's Go-To Plumber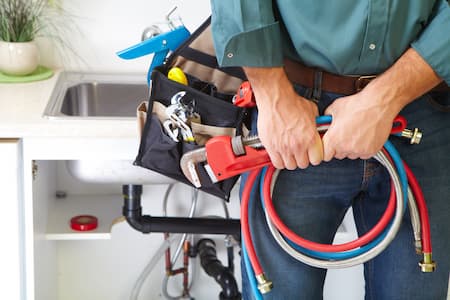 Top Quality Plumbing provides plumbing services all over the Freehold area. We always strive to do our best to make sure our customers are happy with each job we complete. Our plumbers perform the following services:
Plumbing Repair: Our plumbers repair and install and repair plumbing fixtures

Faucet Repair: We quickly replace broken faucets

Water Heater Repair: We provide routine tune-ups for your water heater to ensure your hot water stays hot and saves you money on your utility bill

Toilet Repair: We drain water from toilets and fix leaks in toilet bowls to save you money on your utility bill. We can even install toilets for you if required

And More!
Whether you need a quick fix or a permanent plumbing solution in Freehold, we are here to help you, so give us a call today!
Freehold's Most Affordable Plumbing Repair
Our Freehold plumbers are experts in repairing leaks, clogs, broken pipes, installing water heaters, and more. We provide plumbing services that are honest and dependable. If you are in need of plumbing repair or drain cleaning services, call us today. Your home's plumbing system is a reliable but complex part of your daily life. It carries water throughout your home to the fixtures you use every day. It is important to have a plumbing system that works properly so your home can operate as it was originally designed. We will inspect, diagnose, and repair any issues with your plumbing system quickly.
Freehold, NJ Expert Water Heater Repair Service
If you need your water heater repaired or replaced, call us today. We provide affordable, reliable services to residential and commercial customers throughout the greater Freehold area. We stock a full range of water heaters and can quickly repair or replace yours to get you back in hot water fast. Prompt and reliable water heater repair and installation is the hallmark of our company. We strive to provide the best customer service experience possible.
Get in touch with our technicians for fast and efficient service. We also perform inspections to ensure the safety of your water supply and recommend maintenance tasks designed to keep your system operating efficiently for many years.
Reviews & Testimonials on Top Quality Plumbing in Freehold, NJ
There are currently no reviews or testimonials, check back soon!
Need a Plumbing Expert?
Call Top Quality Plumbing!

Plumbing Tips & Tricks
Should I DIY My Bathroom Faucet Installation?

You depend on your faucet for drinking water, bathing, and washing dishes. But when it stops working properly, you need to act fast to avoid the spread of mold or the growth of rust. And if you've ne […]
Does My Water Heater Need To Be Replaced?

Do you experience sudden spikes in water temperature? Are you concerned about a leak? Does your water heater seem to run hot and keep going out? If you answered yes to any of these questions, it migh […]

Contact Us Today
Call Your Trusted Spring Lake Plumber Today!